55ZY Series high power PMDC electric motor
Product Introduction
PMDC Motor Characteristic
PMDC Motor not only with good mechanical properties, regulating characteristics ,wide speed range and easy to control, but also has small
dimension, high efficiency, simple structure, good security, etc
Product Advantages
High Efficient
55ZY Series high power PMDC electric motor with high efficient adopts international advanced electromagnetic design software. At the beginning of the development, we
calculated electromagnetic performance, simulated and contrasted many alternatives.
Low Noise
55ZY Series high power PMDC electric motor takes consideration of the influence of the brush and electromagnetic noise to motor, and has rich design experiencein in low
noise requirement occasion.
Long Service Life
55ZY Series motor high power PMDC electric motor has a first-class supplier for the key parts brush which decides the DC motor's service life.
selection that can make the life of DC motor maximization.
High Protection Level
55ZY DC have rich design experience in the field of motor protection. Products achieve IP68 protection grade.
Personalized Service, Team Service
We has a strong electrical technology development and services team. Makes the highest cost-effective motor according to the requirements of the different customers. Team service include technology, craft, quality management, production and market. With the optimization of service to guarantee products' quality, to win customers' best satisfaction.
General Technical Requirements
Cold Insulation resistance ≥50MΩ
Dielectric strength Un≤48V AC 600V/10mA/1s
Un>48V AC1800V/10mA/1s
The motor temperature rise (resistance method)
Insulation grade A E B F H
Altitude ≤1000m
Temperature -10℃~+40℃
Relative humidity(Temperature 20℃ ) ≤95%
Store Environmental Requirement
Temperature -5℃~+35℃
Relative humidity(Temperature 20℃ ) <70%
Well ventilated, no corrosive gas, forbidden to store with strong magnetic items.
Announcements
Wiring in the correct way.
Prevent the collision, throw, hit in the process of transport and useing of the installation.
Such as positive & negative frequently, the power supply should have soft start protection device.
It is strictly prohibited to overload operation at low speed and locked-rotor, in order to avoid too high temperature or burned.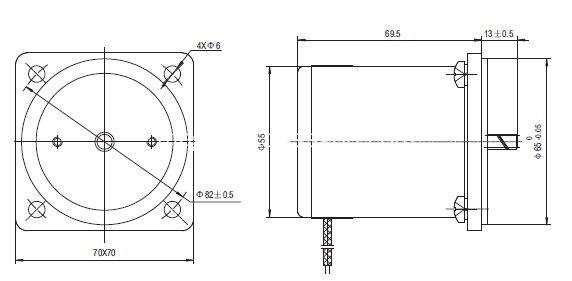 Specifications