High Quality Low Price CSJ Series Coarse Pulverizer
Main Features:
1. CSJ Series Coarse Pulverizer have High Quality and Low Price
2. CSJ Series Coarse Pulverizer is Leaf Grinding Machine
3. CSJ Series Coarse Pulverizer reach GMP require
4. CSJ Series Coarse Pulverizer is Herb Coarse Grinder
5. CSJ Series Universal Pulverizer is Universal Rough Pulverizer
6. The grinding machine also connect with Vacuum Feeder or Vacuum Powder Conveyor to send materials .
7. The grinding machine also connect with ZS Round Sieve Machine (Vibration Screen Machine) to separate again to get uniform materials.
CSJ Series Coarse Pulverizer Main Application
Coarse Grinding Machine is applied as supporting equipment, before fine crushing process in trades such as pharmaceutical, chemical and foodstuff ect., which has better crushing effect for any material without limitation on its viscosity, hardness, softness and fiber ect..
CSJ Series Coarse Pulverizer Working principle
Universal Coarse Pulverizer is horizontal crushing structure, and the material is fed into the crushing chamber through a hopper, crushed by cutting and impact of both fixed and rotating knives, and flows of the exit automatically under the effect of rotating centrifugal force. Designed according to "GMP" standard and wholly made of stainless steel, this machine has simple structure, convenient cleaning and low noise, being the ideal equipment for coarse crushing.
Main Technical Parameter:
The main technical parameter of this machine are available for reference.
| | | | | | | |
| --- | --- | --- | --- | --- | --- | --- |
| Model | capacity | Size of input granules | Size of input granules | Power | Overall size (L*W*H) | Weight |
| CSJ-20 | 50-100kg/h | ≤100mm | 0.5-20mesh | 4kw | 600*500*1100mm | 320kg |
| CSJ-40 | 100-450kg/h | ≤100mm | 0.5-20mesh | 5.5kw | 780*800*1300mm | 500kg |
| CSJ-60 | 150-700kg/h | ≤100mm | 0.5-20mesh | 11kw | 890*900*160mm | 620kg |
| CSJ-80 | 200-900kg/h | ≤100mm | 0.5-20mesh | 18.5kw | 1285*1080*1700mm | 1000kg |
| CSJ-100 | 250-1100kg/h | ≤100mm | 0.5-20mesh | 30kw | 1480*1200*1850mm | 1200kg |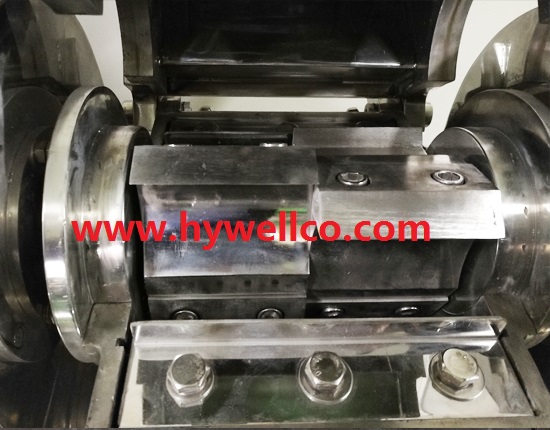 Quality control
In order to ensure quality of product, we focus on user 's requirements and control improvement and enhancement quality of products .The quality assurance mainly focus on the processes of ensuring production readiness inspection, control of raw materials and components, process control, critical parts, important parts of quality control, assembly quality control, process control testing, measurement equipment control. Pay close attention to the implementation of the quality assurance work, strictly to three inspection system of self-checking, mutual inspection, special inspection. The key point of Quality assurance is focuses on critical parts, important parts of quality control, the quality standards required by ISO9000 quality control procurement documents in order to clarify its status and acceptance of quality standards for company's re-inspections ; For critical parts and important that the key processes of identification and corresponding technical documentation, control by "the implementation of key quality control process", and complete, accurate and complete original records. Difficulties in quality assurance is a special process control, quality assurance is mainly painting, has developed a special process (painting) process documents, take the appropriate technical measures, to quality assurance.
In the production process, we pay close attention to quality control of each process. Every component, every process was strictly controlled. Enhanced the quality inspection process, the establishment of the necessary quality control point, the process by a full-time staff and quality inspector for inspection and supervision. Improved testing procedures and operating instruction.
OUR SERVICES
Pre-sale service
We Invite customers to visit our company and communicate on technical requirements face to face.
Sale service
Responsible for debugging the equipment according to customers' requirements of various technical data. Our engineers will train our customers about equipment features and operation key points to make sure the equipment running in the best condition.
After-sale service
We provide installation, debugging, maintenance, training and Other services (Optional); Provide relevant technical data, equipment, software and related GMP certification materials;Set up after-sales service hotline.
Quality promise
Our company promises strictly operate the ISO9001 quality system certification standards and pharmaceutical equipment GMP audit requirements,promise we provide new equipment. Advanced technology,good quality. Equipment operation safe reliable, affordable, easy to maintain.

Equipment warranty period is one year, all the parts for the equipment choose well-known brand.During the warranty when equipment have problem in quality like equipment failure and damage, our company offer free maintenance or replacement.